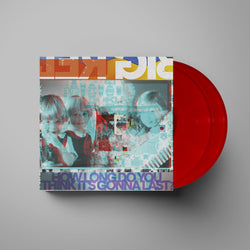 How Long Do You Think It's Gonna Last? (Red) - LP
Release Date: August 27, 2021
Record Label: Jagjaguwar / 37d03d
Format + Color: Double LP - Red
Tracklist:

Latter Days (feat. Anaïs Mitchell)

Reese
Phoenix (feat. Fleet Foxes and Anaïs Mitchell)
Birch (feat. Taylor Swift)
Renegade (feat. Taylor Swift)
The Ghost of Cincinnati
Hoping Then
Mimi (feat. Ilsey)
Easy to Sabotage (feat. Naeem)
Hutch (feat. Sharon Van Etten, Lisa Hannigan and Shara Nova [My Brightest Diamond])
8:22am (feat. La Force)
Magnolia
June's a River (feat. Ben Howard and This Is The Kit)
Brycie
New Auburn (feat. Anaïs Mitchell)
Cover Art Designed By: Graham Tolbert
Fulfilled by Ambient Inks and shipped using compostable and/or recyclable packaging. To learn more about our sustainability standards and practices, please visit this link.