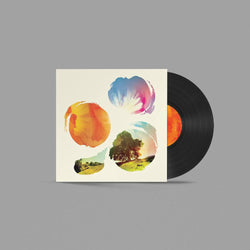 Details:
Designed by ISO50 (Tycho's design moniker)
The vinyl edition is limited to 2,000 pressings only. It features a 4-panel, tip-on art jacket with a matte laminate finish and original inner art sleeves on standard 160 gram vinyl. 
First time available on vinyl as a full release.
Please note that this is a heavy album, weighing nearly 2 pounds (.9kg).  As a result, shipping charges are higher than shipping a normal album.
Tycho's Past Is Prologue has a storied history. The tracks began as Sunrise Projector, Tycho's 2004 full-length debut on Gammaphone records; the record was then expanded and reissued in 2006 as Past Is Prologue on Merck records; and now, Ghostly International is reissuing Tycho's original masterwork, re-introducing graphic designer / producer Scott Hansen's musical universe: a lush, expansive imaginary landscape of sepia-toned keyboards, warm downtempo beats, and mile after mile of sun-dappled beauty.
Scott Hansen's alter-ego is as graphic designer ISO50, and his visual work and musical creations share a similar aesthetic: saturated, faintly nostalgic tones, artfully arranged compositions, with a complex internal rhythm and color-outside-the-lines joy that's both easy on the eyes/ears and tremendously addictive.
Past Is Prologue is an ideal point of entry into Tycho's world: "Dictaphone's Lament" is an anthemic rush of melody and rhythm with cross-panned, dueling basslines and a gauzy, late-afternoon feel; "Send and Receive" sounds like a music box designed by Brian Eno, a fine mesh of melodic plips and plops and brisk, skittering hi-hats. The title track is a low-level stunner, splitting the difference between Rhodes-heavy ambient and drum 'n bass—both laid-back and frantic. Past Is Prologue also includes remixes from Dusty Brown, Chachi Jones, and Nautilis, as well as a new remix of "From Home" by Mux Mool, in which the Brooklyn producer expands the modest ambient swell of the original into a bass-heavy beat symphony. As its title implies, Past Is Prologue is only the beginning. In the years since its initial release, Scott Hansen has been refining his approach, woodshedding new material and buffing it until it shines like polished brass. For Tycho, the past is prologue to a limitless future.  


Tracklist(digital):
From Home
Sunrise Projector
Dictaphone's Lament
PBS
Send And Receive
Brother
A Circular Reeducation
Past Is Prologue
Cloud Generator
The Disconnect
Cascade
Phoenix
A Circular Reeducation (Dusty Brown Remix)
Send And Receive (Chachi Jones Remix)
Sunrise Projector (Nautilis Remix)
From Home (Mux Mool Remix)