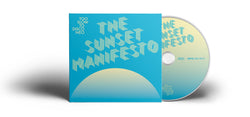 Too Slow to Disco NEO - The Sunset Manifesto CD + Poster Booklet
CD Digipak includes poster booklet with liner notes.
We are thrilled to announce our new compilation "The Sunset Manifesto". It features 16 new, exclusive, unreleased tracks/remixes by our favorite modern Sunset Disco artists from across the globe.
Now, it's time to bring the party back to nightclubs, hotel bars and living rooms everywhere...Have you ever felt so wistful for the dance floor? Have you ever been so in need of getting your personal shimmy on? Not to worry – Team Too Slow to Disco has your back. We present: The Sunset Manifesto. Sixteen ways to party wherever you are right now. Sixteen ways to add effortless chic to your: lockdown kitchen disco / home-office yoga studio / commute to the living room.
Our intention? To bring you a globe-trotting playlist of some of the most sophisticated, adult-orientated and dance-inducing pop music from today's finest exponents of that Too Slow to Disco sound. And like a good detective about to crack a big case, DJ Supermarkt has been tailing these acts for quite a while now.
It's an eclectic gang, from Westcoast USA to Norway via a hundred (14) places in between – but with a shared golden thread. That warm sonic palette that escaped from Laurel Canyon folkies and LA session gods is there, remade by a contemporary electronic sensibility. As acts they're all touched by that lazy, daytime disco or Balearic style.
Tracklist
1. KRAAK & SMAAK - Hotel Sorriso
2. YUKSEK – Do Beijo (Extended Version)
3. POOLSIDE – I Feel High (Vibes4YourSoul Remix)
4. MOODS - Vulf's Back Pocket Regroove
5. GLAMOUR HAMMER - Is It True (feat. Toni Sauna)
6. PREP - Love Breaks Down(Extended Dancefloor Edit)
7. TURBOTITO – Heart And Soul
8. DISKOBEISTET - Baner Vei (Extended Dub)
9. SATIN JACKETS - Think About It (Jack Tennis 80s Disco Dub Remix)
10. LUXXURY - ...At Any Moment (DoctorSoul Need to Survive DUB Re-Therapy)
11. KIMCHII – Windsurf
12. FINAL DJS – Mistakes
13. ROOSEVELT – Take Me Back (Falcon Punch Remix)
14. KNIGHT ONE – Imagination
15. PRIVATE AGENDA - 4 Step
16. JAMES ALEXANDER BRIGHT - Under The Sun