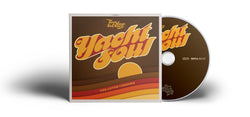 Too Slow to Disco Yacht Soul - The Cover Versions CD
Comes in jewel case with o-card, booklet with extended liner notes

TSTD returns with another trip into the musical past of the sundrenched Westcoast:
This time DJ Supermarkt unearthed 16 Soul & Funk versions of original Westcoast/AOR/Yachtpop gems. You can find tracks originally performed by Fleetwood Mac, The Doobie Brothers, Hall & Oates, Steely Dan, Wings covered by big Soul & Funk legends like Aretha Franklin, Chaka Khan, Quincy Jones, Brothers Johnson and more.
Most of the tracks have been recorded in the late 70s/early 80s, but failed to become big hits and fell under the radar. Like Chaka Khan doing a seriously funky version of Fleetwood Mac's "Everywhere" (from an unreleased album recording), next to obscure reworks like Leslie Smith's version of "Nothin' You Can Do About It" by the overlooked Airplay (Jay Graydon and David Foster). There are especially surprising versions here, like Millie Jackson's gospel-like rendering of "This Is It" by Kenny Loggins/Michael McDonald, or Billy Paul's "Black Power"-influenced version of Paul McCartney/Wings' "Let Em In" and the rare cover of The Beach Boys' "God Only Knows" by Betty Everett. Overall another TSTD collection of smooth, sunny, extremely soulful and funky tracks, that needed to be dug-out to be heard again. This is Bottled Sunshine!

Tracklist
1. The Main Ingredient - Summer Breeze
2. Dee Dee Bridgewater - He's Gone
3. Tavares - I Hope You'll Be Very Unhappy Without
4. Betty Everett - God Only Knows
5. The Ebonys - A Love Of Your Own
6. Pointer Sisters - Dirty Work
7. Leslie Smith - Nothin' You Can Do About It
8. The Brothers Johnson - In The Way
9. Greg Philinganes - Lazy Nina
10. Peabo Bryson - Minute By Minute
11. Chaka Khan - Everywhere
12. Aretha Franklin - What A Fool Believes
13. Billy Paul - Let 'Em In
14. Side Effect - Georgey Porgy
15. Quincy Jones - Takin' It To The Streets
16. Millie Jackson - This Is It