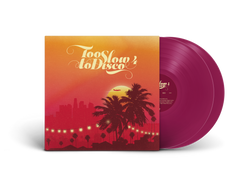 Too Slow To Disco 4 - Limited Edition LP
Pre-order: Please note that this item is a pre-order and as such this and any items ordered together with it will not ship out until on or around the release date, September 9th 2022.
Limited Edition 140g double colored gatefold vinyl
Heavy carton, with postcard
Incl. download code
(Exclusive: comes with a poster and sticker, only here in the TSTD Shop)
After smooth detours into Soul covers, French Neo-Disco, modern Sunset Disco and Brazilian AOR, in 2022 DJ Supermarkt's Too Slow to Disco series makes a joyous return to its original Westcoast AOR/Yacht roots. Celebrating the 10th TSTD compilation. Who would have thought….
The Berlin curator releases a killer 4th edition of the original compilation art form, "Too Slow to Disco", featuring forgotten and overseen gems from the mid 70s to the early 80s from a global world of smooth, brilliant lost and overproduced tracks from Finland via London and L.A. to Trinidad and beyond.
The great 'un-vanisher' of lost lazy classics, DJ Supermarkt once again unearthed some incredible music that labels, publishers (in many cases also those, who actually own the rights to those tracks…) and streaming services have often long overlooked. You're welcome, world!
more infos here: https://tooslowtodisco.com/
Listen to this mimimix with all 16 tracks and get into the vibe: