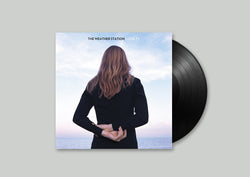 "The Best Folk Album Of The Year" – FADER Magazine
"She's a singer with an unmistakable and communicative voice, able to convey hope and hurt with equal clarity" – Pitchfork
The Weather Station, the musical project of Toronto artist Tamara Lindeman, has announced a new album, entitled Loyalty. The project's first release on the Outside Music label in Canada wrestles with knotty notions of faithfulness and faithlessness to our idealism, our constructs of character, our memories, and to our family, friends, and lovers representing a bold step forward into new sonic and psychological inscapes. It's a natural progression for Lindeman's acclaimed songwriting practice.
Recorded at La Frette Studios just outside Paris in the winter of 2014, in close collaboration with Afie Jurvanen (Bahamas) and Robbie Lackritz (Feist), Loyalty crystallizes her lapidary songcraft into eleven emotionally charged vignettes and intimate portraits, redolent of fellow Canadians Joni Mitchell, Leonard Cohen, and David Wiffen, but utterly her own. Loyalty brings a freshly unflinching self-examining gaze and emotional & musical control to The Weather Station's songs. Sonically, the record is a quietly radical statement, with certain passages achieving an eerie harmonic and rhythmic
 

tension new to The Weather Station.

An extraordinary singer and instrumentalist on Loyalty she plays guitar, banjo, keys, and vibes but Lindeman has always been a songwriter's songwriter, recognized for her intricate, carefully worded verse, filled with double meanings, ambiguities, and complex metaphors. Though more moving than ever, her writing here is almost clinical in its discipline, its deliberate wording and exacting delivery, evoking similarly idiosyncratic songsters from Linda Perhacs to Bill Callahan. Lyrically, Loyalty inverts and involutes the language of confession, of regret, of our most private and muddled mental feelings, by externalizing those anxieties through exquisite observation of the things and people we accumulate, the modest meanings accreted during even our most ostensibly mundane domestic moments.