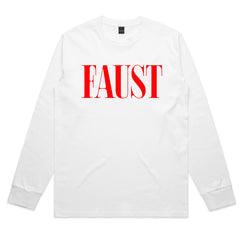 Faust - White Long-Sleeved T-shirt
Red Faust logo printed on a white, classic fit, 100% Cotton 203 g/m² long-sleeved t-shirt.

Faust is the acclaimed performance and exhibition staged by Anne Imhof at the 57th International Art Exhibition of La Biennale di Venezia and awarded the Golden Lion for Best National Participation. Faust, the album, released by PAN Records is part documentation and part elaboration, the sonic capture and extrapolation of the gestures, intensities, and durations of the live event.