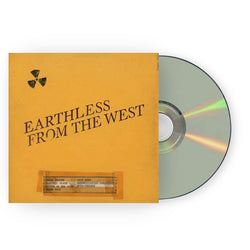 On the eve of the release of 'Black Heaven,' their debut for Nuclear Blast Records, Earthless turned in this incredible live performance in San Francisco on March 1st 2018, captured and released on vinyl by Silver Current Records on September 28th. (On CD & Digital by Nuclear Blast Records.)
Since their inception seventeen years ago Earthless has become an icon of 21st century heavy music and a cult unto themselves. They've toured across the world and rightfully become known as an unparalleled live experience.
On 'From the West' the bands signature high-volume drive and unbridled horsepower create an almost mantra-like repetition as a framework for infinite improvisation. That, and beer-can crushing, fist-pumping riffs and solos delivered by an unstoppable rhythm section.
'From the West' is a complete, hypnotic, psychedelic experience in a way that remains totally unique to the band's virtuosic expression. A live album that captures Earthless at peak powers and a quintessential fan piece from one of the best live rock bands in the world.
Album tracks includes looser, rawer versions of 'Black Heaven' favorites, a nearly 20 minute version of their
 

instrumental titan 'Uluru Rock' and a blazing cover of Led Zeppelin's 'Communication Breakdown.'

The jacket is a meticulous reproduction of the band's favorite TMOQ Zeppelin bootleg.

Track listing:
Black Heaven
Electric Flame
Gifted by the Wind
Uluru Rock
Volt Rush
Communication Breakdown